March 15th Memorial Day at the Embassy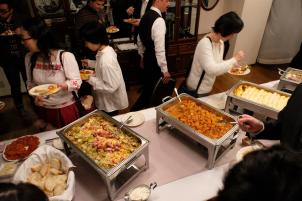 More than 100 Hungarian people visited the March 15th Memorial Day ceremony and joined the reception party afterwards. The event was held in a nice atmosphere. The chef of the Embassy presented well-known Hungarian delicacies for the participants.
MUOGRAPHERS 2017: IM2N scientific symposium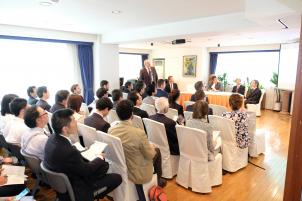 The license agreement was signed ceremoniously created by the MTA Wigner Research Center for Physics, the Tokyo University Earthquake Research Institute (ERI) and the NEC Corporation at "MUOGRAPHERS 2017: IM2N" scientific symposium held at the Hungarian Embassy on 2017. May 19th.
Kodály emlékkoncert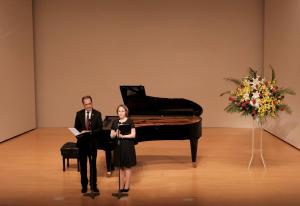 Szeptember 27-én 400 fős Kodály-koncert volt az Akasaka Kumin Centerben.
A Kodály-művek mellett cseh, szlovák és lengyel zeneszerző művei is elhangzottak, mert a koncert egyben Magyarország V4-es elnökségének első kulturális rendezvénye is volt.
Fellépett Brassói-Jőrös Andrea szoprán énekes, Pálné Czébely Beáta zongoraművész, valamint a Matsushita Kó karnagy vezényelte The Ladies' Vocal Artists Antheia nevű japán női kórus is.
A koncerten beszédet mondott a Japánban tartózkodó Dr. Hoppál Péter (EMMI kultúráért felelős államtitkár).
Kaláka - Arany János emlékkoncert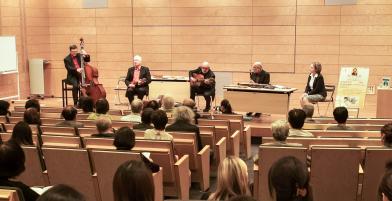 Október 6-án a Josai Egyetem Kioi kampuszán adott koncertet a Kaláka, Arany János születésének 200. évfordulója alkalmából. Az Arany-művek mellett elhangzottak a Kaláka együttes dalai is, és még a legfiatalabbaknak is kedveskedtek pár gyerekdallal.